Sportcamp Melchtal
The Sportcamp offers an enormous choice. We can accommodate up to 600 people. Whether you are a sports fan or a music club, looking for self-catering accommodation or full board, in a large group or a small one, from nearby or far away… the Sportcamp has definitely got something for you.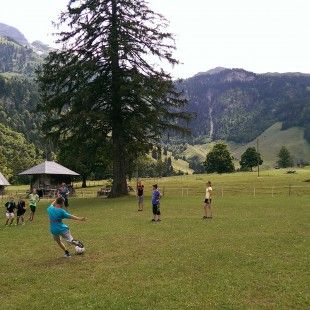 Accommodation
With 12 separate accommodation buildings, two well-equipped catering kitchens and a wide range of amenities in our main building (2- to 4-person rooms, holiday apartments, new kitchens and dining-room, two more large rooms), we can offer our guests all kinds of different accommodation options.
The Comfort buildings and the main buildings are ideal for families, couples and individual travellers who appreciate a little more comfort, or for groups, clubs and schoolclasses planning a seminar or workshop with a difference. Our 8 Pavilions, each with 42-50 beds, are most suitable for groups.