Fruttpark…
… at Erzegg offers various obstacles like kickers, boxes, rails, tubes and many more for the creative freestylers on skis and snowboards. Fruttpark.ch delivers the perfect element for everyone, no matter on which freestyle level.
Because of the hilly terrain of the upper park, this part of the park is a playful fun run. And this is, how freestyle should be!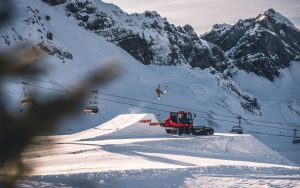 The Small Line – the middle part of Fruttpark – helps you to enter into freestyle. Here the elements are easy shaped so you can approach the elements with smooth and easy jumps. The Small Line is also suitable for advanced and experienced riders. Especially if you want to try out new tricks.
Big Berta – the heart of the main part – is surrounded by fancy shaped obstacles for advanced (Advanced-Line on the left side) and intermediate riders (Easy-Line on the right side). Here you can jump high, show your style and creativity. Or you relax at our park meeting point (the container), chill in the deck chairs or barbecue on our grill.
Our Fruttpark.ch is exclusively made from natural snow!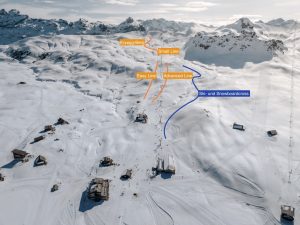 ---
Audi Ski and Snowboardcross
In cooperation with Audi and Swiss-Ski we also offer you a ski and snowboardcross run. Close to Distelboden you can compete with up to three competitors on the skicross slope.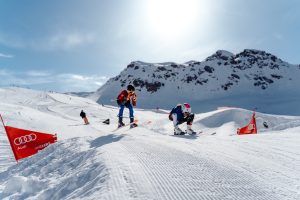 Be careful! You should follow these rules when using the skicross park:
Make an inspection before the first race
Entering the skicross park is only allowed at the start
No entering on the track
Do not stand or sit on the track, drive through to the finish line
Do not use the track with small children
The Skicross Park is for experienced skiers only
Respect FIS rules
You can find more exciting news about skicross here: www.audiskicross.ch.
---